Get Your Ford Serviced at Legacy Ford in La Grande, OR!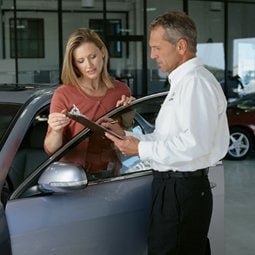 If you have a new Ford truck, car, or SUV, come by Legacy Ford to get your vehicle serviced at our service center. We are always happy to help you remember when your Ford has scheduled service. We are also available for other repairs as needed. Scheduled service is important for your Ford because it can help increase the value and give you peace of mind.
The Importance of Routine Service
The benefits of having scheduled service at our dealership when you are in the La Grande, OR area are that you are getting service from qualified service professionals with experience, and your vehicle history report will also reveal that you had scheduled maintenance. If you decide to sell your Ford at a later date, the vehicle history report will reveal your maintenance practices and get you a higher price and a quicker sale.

Types of Service for Your Ford

Oil Changes
At our Ford dealership, we can make sure that your Ford has the maintenance that it needs regularly. One of the top services that our clients come into our dealership for is to have the oil changed regularly on their Ford. This is an excellent thing to do if you want your Ford to perform well all the time. Even if you don't drive your Ford a lot, stop by to have your oil checked to make sure it isn't getting old faster because your vehicle isn't driven much.
Tires
We can check to make sure your tires are aligned and balanced correctly. We will also check the tread and the air in all four tires to ensure they are in good working condition.
Brakes
If you hear squealing coming from the brakes in your car, bring it in to see if you need brake work or your brake pads changed. We are always happy to inspect all the components on your brakes to ensure you are safe.
We use original Ford parts to ensure your vehicle runs at top performance. Schedule your next service visit with us today!